By RFE/RL
Srebrenica, July 1995. Bosnian Serb forces have just taken over the town, but General Ratko Mladic reassures thousands of Bosnian Muslims that they'll be safe.
"Don't be afraid of anything," he tells them. "Easy. Let the women and the children go first. Thirty buses will be there. We will transport you to Kladanj. Don't be afraid. Nobody will do anything to you."
A week later, more than 7,000 people from Srebrenica lay dead.
According to the indictment by the International Criminal Tribunal for the former Yugoslavia (ICTY), after buses drove off with Srebrenica's women that sweltering July day, the men and boys were rounded up and massacred under Mladic's direct orders.
Bosnian Serb forces later tried to get rid of the evidence by reburying the bodies in mass graves scattered around isolated areas.
The Srebrenica massacre was the single worst atrocity perpetrated in Europe since the end of World War II. It was all the more shocking because Srebrenica had been designated by the United Nations as a "safe haven" for refugees fleeing war in other parts of Bosnia.
Mladic, who has evaded capture for more than a decade, was arrested in Serbia on May 26 and reportedly will be extradited to The Hague to stand trial for alleged genocide.
According to the charges against him, Srebrenica capped three years of crimes against humanity by Mladic that began in 1992, when he directed the shelling and bombardment of the Bosnian capital, Sarajevo. Radovan Karadzic, the Bosnian Serb president, set the policy, and Mladic, his top military commander, carried it out. Karadzic was arrested in Serbia in 2008.
The two men are charged with heading a chain of command whose central aim was ethnically cleansing Bosnia of non-Serbs -- through torture, intimidation, population transfers, and mass killings that at times amounted to genocide.
Bringing them to justice has been the main mission of the war crimes tribunal in The Hague.
Prosecutors say there is no lack of evidence against Mladic.
The blockade of Sarajevo by troops under his command, which lasted from April 1992 to March 1996, was the longest urban siege in modern warfare.
An estimated 12,000 people, mostly civilians, died during the siege and another 50,000 were wounded.
In this intercepted radio communication, Mladic speaks with a sniper:
Voice: They go like ants....
Mladic: Like ants....
Voice: Yes....
Mladic: Let the snipers work.
Voice: They will work for the whole afternoon.
Mladic: Let them work.
Voice: But we will take out [a target].
Mladic: Take some out, Brother, but let the last convoy get out there.
Voice: Understood, Boss. You will give the signal when to start the blockage.
Mladic: (Laughs) Excellent.
Voice: Understood.
Mladic: Just go for it, "Boss."
Voice: Goodbye.
Mladic: Goodbye. Into the flesh only.
After the end of the Bosnian war, Mladic took refuge in Belgrade, where he enjoyed the protection of Yugoslav President Slobodan Milosevic. He was sometimes seen eating in fancy restaurants and attending soccer matches.
After Milosevic's capture and transfer to The Hague in 2001, Mladic disappeared from public view. Chief war crimes prosecutor Carla Del Ponte repeatedly accused Serbian authorities of knowing his whereabouts.
At the start of 2006, the European Commission warned Serbia it faced a choice: hand over Mladic and Karadzic, or give up its ambition to build closer ties with the EU.
RFE/RL's Balkan Service contributed to this report
Balkans War Crimes
The Balkans Face Their Wartime Ghosts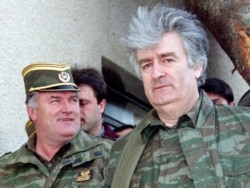 Bosnian Serb wartime leader Radovan Karadzic (right) and General Ratko Mladic in 1995
Poll: Most Serbs Support Mladic
EU Puts Pressure On Serbia To Arrest Mladic
Mladic Video Increases Pressure On Serbia
In Croatia, One Step Forward, Two Steps Back
Time For Serbia To Issue A Warrant For The Truth
Serbs Honor Srebrenica Victims With Shoe Memorial
Justice And Therapy In Yugoslav War Crimes Trials