WATCH: Residents of Belgrade and Sarajevo react to news of Mladic's arrest to RFE/RL's Balkan Service.
By RFE/RL
The UN war crimes tribunal's most-wanted fugitive, former Bosnian Serb military commander
Ratko Mladic
, has been arrested in Serbia, after more than 15 years on the run.
Serbian President Boris Tadic confirmed the arrest at a hastily called press conference in Belgrade, saying Mladic was apprehended "on Serbian soil" this morning.
He said the extradition process already is under way to send Mladic to the UN war crimes tribunal at The Hague, where he will face charges of genocide and war crimes stemming from the Balkan wars of the 1990s.
Police and other officials told local media that he had been found in Lazarevo, a village of some 2,000 residents about 100 kilometers northeast of the capital.
Mladic was long thought to be hiding within Serbia, protected by ultranationalist supporters.
Radmilo Stanisic, the de facto mayor of the village, said that before sunrise, special forces quietly swooped in on Mladic's hideout, a single-story yellow brick house thought to be owned by a relative.
Rasim Ljajic, a government minister in charge of cooperation with the UN tribunal, said Mladic "looked like an old man" when he was arrested.
"He was pale, which could mean he rarely ventured out of the house -- a probable reason why he went unnoticed," he said.
Ljajic said Mladic had two handguns in his possession, but did not resist arrest and was "cooperative."
While in hiding, Mladic was said to be going by the name "Milorad Komadic."
Serbian State TV said Mladic was undergoing medical exams at a court in Belgrade before facing a judge who will read him the UN war crimes indictment.
Mladic's lawyer later told reporters that the judge cut short the questioning because Mladic's "poor physical state" left him unable to communicate.
Attorney Milos Saljic said Mladic "is aware that he is under arrest, he knows where he is, and he said he does not recognize The Hague tribunal."
The UN-backed tribunal today said Mladic's transfer will take place after the completion of judicial proceedings required by Serbian law, which could take about a week to complete.
The UN-backed court said Mladic's transfer will take place after the completion of judicial proceedings required by Serbian law.
'Important Step'
The capture of Mladic was welcomed by the tribunal's chief prosecutor, Serge Brammertz, who said Belgrade had "fulfilled one of its international obligations."
European Union foreign policy chief Catherine Ashton, who was in Serbia today, hailed the arrest and said her thoughts were with the victims of Mladic's alleged war crimes.
"Today more than ever I think about the families and friends of the victims of the conflict and I feel it is really important that we remember them and think of them especially," she said.
At a later joint press conference with Tadic, she said, "This step is a testimony that Serbia is a state which has firmly established rule of law."
European Commission President Jose Manuel Barroso also welcomed the arrest in an interview with the BBC on the sidelines of the G8 summit in Deauville, France.
"This is great news. I was, exactly one week ago, in Belgrade. I had an extensive, very deep, sincere conversation with President Tadic, and he promised me that he'd do everything to arrest Mladic. So if this is the case, it means that he is keeping his word, so that we should trust Serbia's determination also to come closer to the European Union," he said.
In other reactions, NATO Secretary General Anders Fogh Rasmussen said the arrest "finally offers a chance for justice to be done," and UN Secretary-General Ban Ki-moon hailed the arrest as "an historic day for international justice."
Leaders from countries ranging from Turkey to Germany to neighboring Croatia and Kosovo also welcomed Mladic's capture.
Bakir Izetbegovic, the Muslim member of Bosnia and Herzegovina's tripartite presidency, said the arrest "is also an impulse for the process of reconciliation.
"It is very important to say and to understand that the arrest has been made by the legal authorities of Serbia supported by the agencies from Bosnia and Herzegovina," he added.
In a statement, U.S. President Barack Obama said "While we will never be able to bring back those who were murdered, Mladic will now have to answer to his victims, and the world, in a court of law."
U.S. State Department spokesman Mark Toner said the arrest sends a signal to other fugitives that "International justice works."
The 69-year-old Mladic is charged with war crimes and genocide during the Balkan wars of the 1990s -- including the 43-month siege of Sarajevo in which 12,000 people were killed, "ethnic cleansing" in Bosnia, and orchestrating the massacre of more than 7,000 Muslim men and boys after the fall of Srebrenica in July 1995.
As the most infamous atrocity of the Balkan wars of the 1990s, the killings at Srebrenica were the largest act of mass murder in Europe since the Nazi holocaust of World War II.
'Good For Serbia'
Tadic said Mladic's arrest is "good for Serbia" because it "closes a page" in the country's history -- opening new opportunities for cooperation with other countries in the region" and clearing the way for Serbia to become a member of the European Union.
WATCH: Serbian President Boris Tadic makes the Mladic announcement:
He said the arrest and extradition of Mladic also helps "raise Serbia's moral credibility in the world."
"We are not making calculations on when and how to deliver [Mladic to The Hague]," Tadic said. "We are doing that because we truly believe this is in accordance with our law. This is because of our people -- Serbs. This is because of the moral dignity of our country and our people. But this is crucially important in terms of reconciliation between people that are living in the region of southeast Europe's former Yugoslavia."
Indeed, Mladic had been the main obstacle for Serbia to become a candidate for membership of the European Union, as officials in Brussels have refused to grant Serbia candidate status as long as Mladic remained at large.
EU enlargement commissioner Stefan Fuele said that the arrest removed "a great obstacle on the Serbian road to the European Union."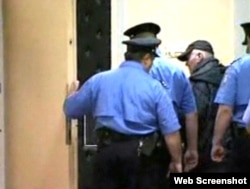 Mladic at the entrance to the Special Court in Belgrade
Tadic also said Mladic's arrest does not mark the end of Belgrade's cooperation with the UN tribunal. He said an investigation and search is continuing for "all of those who helped Mladic and other fugitive war crimes suspects" to evade capture.
He specified that the investigation would include the question of whether any members of Serbia's government were involved in hiding Mladic over the years.
The Search For Hadzic
Tadic also called for the search to continue for Goran Hadzic, the former president of the self-proclaimed Republic of Serbian Krajina -- a territory seized from Croatia by Serbs in rebellion against Croatia's declaration of independence from Yugoslavia.
WATCH: RFE/RL Associate Director of Broadcasting Nenad Pejic talks about what the arrest of war crimes fugitive Ratko Mladic means for Serbia internationally, regionally, and domestically:
Hadzic, who disappeared from his home in Serbia in 2004, faces 14 counts of war crimes and crimes against humanity for his alleged involvement in the murder of thousands of non-Serb civilians from Croatian territory from 1991 to 1993 -- including the 1991 massacre of 250 Croatian and non-Serb civilians from the Vukovar hospital in one of the first atrocities of the Balkan wars of the 1990s.
But Tadic also called for independent investigations into alleged crimes against humanity by other officials in the Balkans, including ethnic Albanian officials in Kosovo.
The Serbian president said more details on the circumstances of Mladic's arrest would be released after further investigations into his accomplices have been completed.
If Mladic is extradited to the tribunal at The Hague, his trial would be the biggest event for the UN war crimes court since the beginning of the case against former Yugoslav and Serbia President Slobodan Milosevic in 2002. Milosevic died in custody at The Hague in March 2006 before a verdict was reached.
Until the fall of Milosevic's regime in October 2000, Mladic had been seen regularly in Belgrade -- including public appearances at soccer matches and at exclusive restaurants.
Another high-profile war crimes suspect, Radovan Karadzic, was captured on a Belgrade bus in July 2008 wearing a disguise and then extradited to The Hague.
In a message sent from his cell today, Karadzic said he regretted the arrest of Mladic and said he wants to work with him "to bring out the truth" about the Bosnian war at their trials.
Meanwhile, President Tadic vowed he would not allow a repeat of the violent riots that broke out in Serbia following Karadzic's arrest.
That pledge came as nationalist groups called on supporters to take to the streets in protest.
Peter Robinson , a defense attorney Karadzic, said his client's case is only about 20 percent completed and that the judges may decide to try Mladic and Karadzic together.
written by Ron Synovitz and Richard Solash, with RFE/RL's Balkan Service and agency reports
Balkans War Crimes
The Balkans Face Their Wartime Ghosts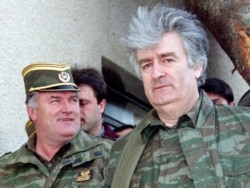 Bosnian Serb wartime leader Radovan Karadzic (right) and General Ratko Mladic in 1995
Poll: Most Serbs Support Mladic
EU Puts Pressure On Serbia To Arrest Mladic
Mladic Video Increases Pressure On Serbia
In Croatia, One Step Forward, Two Steps Back
Time For Serbia To Issue A Warrant For The Truth
Serbs Honor Srebrenica Victims With Shoe Memorial
Justice And Therapy In Yugoslav War Crimes Trials