Low tariffs and relatively lenient legislation are making Ukraine an increasingly popular destination for Western couples seeking to have children through surrogacy.
But cases of foreigners locked in legal limbo while trying to get their babies out of the country also abound -- leading couples to resort to increasingly desperate measures.
One French couple, for example, recently landed themselves in legal hot water after attempting to smuggle twin daughters, born to a surrogate mother, out of Ukraine.
The pair was driven to the desperate measure after the French embassy in Kyiv refused to grant the newborns citizenship and travel documents.
Patrice Le Roch, the girls' father, says Ukrainian border guards caught him and his father red-handed as they tried to cross into Hungary with the babies hidden at the back of their van.
"We had hidden the children under a seat, but they immediately spotted them," he said. "They suspected child trafficking. But the children were never drugged, they are in very good health. We hid them just before crossing the border."
A Ukrainian court last month fined Le Roch and his father almost $2,000 each for the smuggling attempt. Patrice Le Roch and his wife Aurelia are now stranded in Ukraine, waiting for French authorities to rule on their daughters' status.
No Comprehensive International Legislation
The Le Rochs' case is not an isolated incident. Ukraine has emerged in recent years as a popular destination for couples seeking to have children through a surrogate mother.
But as Western men and women flock to the former Soviet country in search of cheap and speedy surrogacy procedures, incidences of couples stuck in limbo in Ukraine, unable to return home with their children, are also on the rise.
With surrogacy a relatively new phenomenon, there is no comprehensive international legislation on the matter.
While Ukraine recognizes the couples who hire surrogates as the only lawful parents, France, for instance, bans surrogacy altogether.
The website of the French embassy in Kyiv strongly warns its citizens against the practice, saying those who flout the ban expose themselves to "serious judicial and administrative problems" including possible criminal sanction.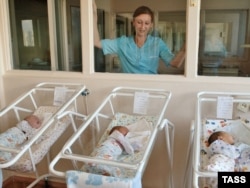 The number of surrogacy births in Ukraine could rise by as much as 40 percent this year.
The legal ambiguity has resulted in a number of highly publicized cases in which foreigners faced massive legal hurdles in trying to take their surrogate-born babies out of Ukraine.
In February, for example, a gay Belgian couple was reunited with its son after a two-year battle to bring him back to Belgium.
Like Le Roch, they had unsuccessfully attempted to smuggle the child out of the country.
Several Large Clinics
Serhiy Antonov is the head of Medical Law Center, a Kyiv-based company providing legal assistance to people interested in surrogacy and other medical services.
According to him, officially there were roughly 120 successful surrogate pregnancies in Ukraine last year, many of them resulting in multiple births.
He estimates that the real figure, however, is about 30 percent higher since private surrogacy agencies are not required to report their data to authorities.
Antonov says the number of surrogacy births has been increasing by a staggering 20 percent a year, and could rise by up to 40 percent this year due to the opening of several large clinics.
"Surrogacy is no longer taboo," he says. "Until recently, it was almost never discussed in Ukraine and people therefore did not think of surrogacy. Now, it is actively discussed in society and medical technology is evolving. This is why these [surrogacy] programs are increasingly popular. Many people who once wanted to adopt now want to try having children that are genetically linked to them."
The comparatively small price tag is also a major attraction for couples desperate to have a baby of their own. Among the few countries that offer commercial surrogacy, Ukraine is one of the cheapest, along with India.
Unbridled Surrogacy
Having a child through a surrogate in Ukraine costs between $30,000 and $45,000 for foreign parents -- slightly less for Ukrainians -- with $10,000 to $15,000 going to the surrogate mother.
In the United States, where surrogacy is authorized in several states, prospective parents can expect to pay between $80,000 and $120,000.
But Ukraine's unbridled surrogacy boom means the procedure is not without risks, both for parents and surrogates.
"People trying to save costs find surrogates or sterile couples through the Internet," says Lyudmila Smakhina, who heads a Ukrainian agency that matches would-be parents with women willing to carry their children.
"If you are going through an illegal company or if you are trying to find people on the Internet, you cannot be sure about anything. That's why problems, for example the surrogate mother not receiving any payment, can happen."
Officially, agencies are required to contact foreign embassies and resolve all legal issues before the surrogacy procedures can go ahead -- something Le Roch says the agency he hired failed to do.
A Grueling Wait
"The contract stipulated [that the agency would take care of] the physical program as well as the entire administrative program," he says, adding that agency was supposed to register the children with Ukrainian authorities and provide all the necessary documents for their transcription to France's registrar, but that it failed to "honor its commitments."
The French Embassy in Kyiv declined to comment on the case.
Although Ukrainian authorities initially took the babies away, the family has since been reunited and is staying in a Kyiv flat.
As they doubt that France will ever recognize their parental rights, Le Roch and his wife have launched a last-ditch appeal to all countries in the Schengen zone to grant their daughters citizenship.
Having already been stranded in Ukraine for four months, they are now bracing themselves for a grueling wait.
"It will be a long period that somewhat spoils the pleasure of being a dad, the magic of having children," says Patrice.