World Greets Mayan 'Apocalypse' With Ceremonies, Parties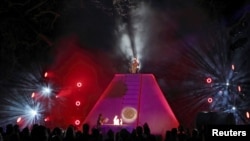 Although doomsayers waited for the coming apocalypse -- the apparent end of the calendar of the ancient Mayan civilization -- most took a lighthearted view of the prophecy of the end of days.

In Central America and Mexico, crowds gathered at ancient ruins on December 21 to greet the first sunrise of a new era following a 5,200-year period in the ancient civilization's Long Count calendar.

Descendants of the ancient Maya gathered at Guatemala's ruins of Kaminaljuyu for the "Last Sun" ceremony on December 20.

"For us it is a very important celebration where we should unite together to reflect about our lives, our existence in a special way to retake our cultural identity," Andre Roxchet Chavajay of the Tzutuil Mayan community told the Reuters news agency.

In Serbia, the place to be is the southeastern, pyramid-shaped Rtanj mountain, rumored to be spared when the rest of the world turns to rubble.

Local residents are cashing in, with hotels being booked out by visitors.

Darko, a 28-year-old designer visiting from Belgrade, told the AFP news agency: "I do not really believe that the end of the world is coming, but it is nice to be here in case something unusual happens."

A Calm, Quiet Morning

Another spot thought by some to escape the end of the world is the Bugarach mountain in southern France.

But the village of Bugarach and its hordes of journalists woke up to a calm, quiet morning.

Resident Bernard Pelletier told reporters he was looking forward to a Christmas free of interference by international media.

"[There is] nothing. And tomorrow, it will be calm, everyone will leave and we'll have a party just the few of us and Christmas is coming. That's it," he said.

Authorities have drafted in extra police and closed off access to the mountain and nearby village.

One believer, 30-year-old plumber Ludovic Broquet, told the Associated Press agency that he had made his way to the mountain after a year of preparation, hoping to find a "gateway, the vortex that will open up here [at] the end of the world."

A Great Opportunity For A Party

In the village of Sirince in western Turkey, another site reputed to be safe from the apocalypse, there were also more journalists and security officials present on December 20 than cultists.

But reports say more tourists have since arrived, most of them saying they chose to go to the village to have fun.

"We just thought that it is going to be a great opportunity to have a party here," said Turkish tourist. "We thought that there is going to be a lot of people from around the world. Actually I think it's a bit crazy to believe that the word is going to end in one day or in a moment."

The belief that December 21 will bring days of darkness has gained popularity in China, where authorities say they have arrested hundreds of members this week of a fringe Christian sect that spread doomsday rumors.

A front-page editorial by the "People's Daily," the ruling Communist Party's official newspaper, called for regulatory curbs on the Internet.

It said doomsday rumors and similar online postings had harmed "individuals, society and the nation."

In the southern Chinese province of Hunan, the state-run "Global Times" reported UFO enthusiasts were gathering to perform a "Mayan ritual" to attract alien visitors.

In Taiwan, scientists planted an electronic countdown timer atop a replica of a Mayan pyramid, drawing crowds at the National Museum of Natural Science.

The government tourist organization of Australia, one of the first countries to see the sun rise, had its Facebook page bombarded with posts asking if anyone had survived Down Under.

"Yes, we're alive," the agency responded.

The Interfax news agency also reports that the apocalypse has not happened in Russia's Far East: "People in the Far East are in an excellent mood as they continue celebrating the coming of a new year at office parties," it said.


Written by Antoine Blua, with contributions from AFP, AP, and dpa