Yemen's Presidential Guard Clashes With Army Defectors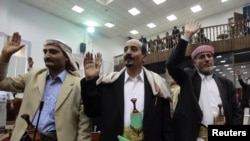 Presidential guards loyal to Yemeni President Ali Abdullah Saleh clashed today in the eastern town of Mukalla with army troops that are backing opposition groups and protesters.
A local government official in Mukalla told Reuters that a colonel was injured in the clashes, but it was not clear which side he was on. General Ali Mohsen, commander of forces in northwestern Yemen, said earlier this week he had defected to the side of protesters who are demanding Saleh's immediate resignation.
As violence has been escalating in Yemen during the past week, Saleh has taken on emergency powers -- barring protests and giving security forces far-reaching powers of arrest. Yemeni opposition leaders have called for a march on Saleh's presidential palace in Sanaa after Friday Prayers on March 25.
Saleh has offered to leave office early -- but only after organizing parliamentary or presidential elections to be conducted by January 2012. The opposition has rejected Saleh's offer as "insincere."

compiled from news agency reports