There have been conflicting reports over whether Yemen's embattled president, Ali Abdullah Saleh, has left the country for medical treatment.
Al Arabiya satellite news channel quotes a medical source in Sanaa as saying Saleh flew to Saudi Arabia on June 4 for treatment of wounds sustained in an attack on the presidential palace on the previous day.
But Yemen's official news agency SABA has not confirmed the report, saying only that senior government officials were in Saudi Arabia for treatment.
On June 3, the president released an audio statement saying he was "well" despite reports he had been wounded in the neck and suffered cuts on his face when tribal forces shelled the palace.
Meanwhile, German Foreign Minister Guido Westerwelle today said that Germany has closed its embassy in Sanaa and is withdrawing its remaining diplomats in Yemen in the face of the increasing unrest there.
Westerwelle also renewed his call for Saleh to leave office, accusing him of "abdicating his responsibility to his country."
Tipping Towards Civil War
Yemen has tipped swiftly toward civil war this week, with forces of the Hashed tribal confederation battling troops still loyal to Saleh in the capital and elsewhere.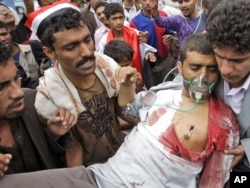 An injured tribesman loyal to Sheik Sadeq al-Ahmar, the head of the powerful Hashid tribe, is carried to a hospital after being wounded in clashes with security forces on June 1
More than 370 people have been killed, at least 155 of them in the last 10 days, since a popular uprising against Saleh's nearly 33 years in power began in January. More than 60 people have now been confirmed killed in the fighting in the capital since a fragile truce collapsed on May 31.

Before the attack on the palace, protesters paraded the coffins of 50 people it said were killed by Saleh's forces.

Heavy fighting also spread for the first time to the southern part of Sanaa, an area held by forces loyal to Saleh and possibly marking a turning point in the conflict.

Explosions were heard in the southern city of Taiz, where the United Nations has said it is investigating reports that 50 people have been killed since May 29.

Two policemen were killed in a rocket-propelled grenade attack, medical officials said, after security forces fired warning shot earlier at protesters gathering for Friday prayers.

Worries are growing that Yemen, home to a branch of al-Qaeda known as AQAP and next to the world's biggest oil exporter Saudi Arabia, could implode and become a failed state that poses a risk to global oil supplies and security.

In Washington, White House press secretary Jay Carney condemned the violence and called on all sides to pursue an orderly and peaceful process of transferring power.

In a statement, Carney said, "Violence cannot resolve the issues that confront Yemen, and today's events cannot be a justification for a new round of fighting."
President Barack Obama's Homeland Security and Counterterrorism adviser, John Brennan, discussed the crisis in Yemen with officials in Saudi Arabia and the United Arab Emirates during a three-day visit to the Gulf that ended today, and the three countries vowed to work together to stop the violence.

The escalating conflict also prompted the Gulf Cooperation Council (GCC) to call for an end to the fighting.

"The council states call on all parties to stop fighting immediately to stop bloodshed," the GCC's secretary general, Abdulattif al-Zayani told Al Arabiya TV. He said Gulf Arab states, who are trying to help broker a power transition deal, stood ready to exert all efforts to help Yemen.

"The ministerial council of the GCC is following with concern and sadness the deteriorating situation and the continued fighting. This situation is regrettable and benefits no one," al-Zayani added.

Saleh first took power at the height of the Cold War as leader of North Yemen in 1978, and in 1990 successfully steered the country to reunification with the communist South.

He has since survived a succession of crises, including Saddam Hussein's invasion of Kuwait in 1990 after which Saudi Arabia punished its southern neighbor for siding with Iraq.