Kosovo's Parliament Set To Challenge UN's Authority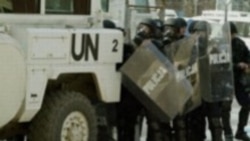 UN peacekeepers in Kosovo (file photo) Kosovo's parliament voted on 8 July to adopt several constitutional changes, including one establishing the right to hold a referendum on independence. Other measures call for switching responsibility for international relations and public security from the UN civilian administration (UNMIK) to Kosovo's own officials.
UNMIK has repeatedly warned the parliament that it is not competent to make changes to the Constitutional Framework. Only the UN Security Council, which adopted Resolution 1244 in 1999, has the authority to make such changes, UNMIK stresses. One unnamed international official called the parliament's vote a waste of time.

But in the wake of the ethnically motivated unrest in March, many political leaders in Kosovo have called for speeding up the transfer of authority from UNMIK to Kosovar officials (see "RFE/RL Balkan Report," 2 and 16 April 2004). In a well-publicized editorial, publisher Veton Surroi suggested in the 17 June issue of "Koha Ditore" that the next head of the international administration would do well not to bring any grand plan along. Instead, he should simply let the elected Kosovar officials get on with governing, intervening only when absolutely necessary.

In fact, many Kosovars argue that the violence showed that the province is a time bomb waiting to explode so long as the status issue remains unresolved. They stress that time has come to end what is essentially a colonial administration in a postcolonial world, moving toward independence based on self-determination and majority rule, as has been the standard in the post-1945 process of decolonization.

These and other scenarios regarding Kosovo were discussed on 17 and 18 June at an off-the-record conference in Berlin sponsored by the German Foreign Ministry, the Bertelsmann Foundation, and the Munich-based Center for Applied Policy Research, titled "Rethinking the Balkans" (see "RFE/RL Balkan Report," 25 June 2004).

Many of the Western participants at that gathering stressed that the Kosovars must first meet internationally mandated standards before there can be movement toward clarifying Kosovo's final status.

Serbian participants, for their part, were generally keen to note the importance of all minority rights, including freedom of movement and the right of all refugees and displaced persons to go home. Several Serbs stressed that they will measure the Albanians' sincerity by the extent to which they protect the Serbs' rights, adding that few Serbs are optimistic on this score following the March violence.

Instead, many Serbs argued for some form of administrative partition. One Serb said that dividing Bosnia into two ethnically based entities in 1995 might not have been a perfect solution, but it has worked. Besides, he wondered, how can one charge that Bosnia is a weak state when it has the might of the international community behind it?

Some of the Kosovar Albanian participants took the opposite approach, arguing that one reason for the frustration that led to the March violence was the tendency of UNMIK to try to build a multiethnic society on basis of ethnic divisions. Instead, Hashim Thaci of the Democratic Party of Kosovo (PDK) told "Balkan Report" on the margins of the conference that Kosovo needs a solution resembling Macedonia's 2001 Ohrid agreement, which would reconstruct Kosovo on the civic principle rather than on an ethnic basis. This, Thaci continued, would mean an end to enclaves and parallel structures by treating Kosovo as a single country. Serbs would have the right to dual Serbian and Kosovar citizenship and to contacts with Serbia. Their cultural and historical monuments would be protected, Thaci stressed.

But at least some of the Westerners at the Berlin conference called for recasting rather than ending the foreign administration in Kosovo. Some participants close to Germany's opposition Free Democratic Party (FDP) repeated their party's call for replacing UNMIK with an EU administration, while maintaining NATO's security presence.

One FDP member of the German parliament told "Balkan Report" on the margins of the conference that the EU is more knowledgeable about Kosovo's affairs than are many international officials from Africa or Asia, adding that the EU is in the best position to offer the Kosovars incentives to meet the necessary standards. When asked by "Balkan Report" what the EU would do if the Kosovar Albanian majority wanted a political as well as a military role for the United States, his FDP interlocutor replied "we'll see" (see "RFE/RL Balkan Report," 5 March 2004).

For their part, many Serbian participants eagerly leaned forward in their seats when the subject of EU rule in Kosovo was raised.

But the Kosovar Albanians tended to be skeptical, sensing that the project is more an attempt by some in the EU to show that Brussels can solve Balkan problems than something that will truly benefit Kosovo. One Kosovar remarked that it seems strange that foreigners want to leave Iraq at the first sign of violence, but when unrest breaks out in Kosovo, some foreigners seem more intent on staying than they were before.