Belarus: Lukashenka Seeks To Change Constitution To Allow Third Term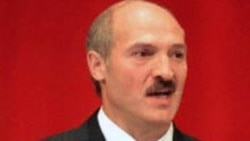 Alyaksandr Lukashenka (file photo) Belarusian President Alyaksandr Lukashenka has announced a referendum in which voters will decide if he can seek at least five more years in office. The referendum will be held along with parliamentary elections scheduled for 17 October. Lukashenka's second term in office expires in 2006, and the current constitution does not allow him to run for a third term. The referendum will ask voters whether they favor removing an article in the constitution that limits the president to two consecutive five-year terms.
Prague, 8 September 2004 (RFE/RL) -- Belarusian President Alyaksandr Lukashenka made the referendum announcement in a televised address to the nation late yesterday.
"Dear compatriots, according to the acting constitution, I have signed a decree to have a nationwide referendum. It will take place on 17 October this year," he said.
Lukashenka said Belarusian voters will decide whether to allow him to take part in the next presidential election. "There will be only one question asked in the referendum. It is formulated this way: 'Do you allow the first president of the Belarusian Republic, Alyaksandr Lukashenka, to participate as a candidate to the office of the president of the Republic of Belarus in the presidential election?' "
According to the Belarusian Constitution, the president is elected for five-year terms and "one and the same person cannot be president any more than two terms."
Lukashenka's reelection in September 2001 was also not recognized as free and fair by European observers.
In his address, Lukashenka appealed to the security concerns of voters, saying no Belarusian has fallen victim to a terrorist act in the 10 years he has been in power. Lukashenka had previously been evasive when asked whether he intended to seek a third term in office. However, on 20 July, he finally said that "if the people permit," he would join the race.
Lukashenka was first elected president on 10 July 1994. The president's power increased considerably as a result of a 1996 plebiscite that stripped parliament of many of its powers and extended his term until 2001. Most Western countries and international organizations called the results of the referendum illegitimate.
Lukashenka's reelection in September 2001 was also not recognized as free and fair by European observers.
Alyaksandr Sosnov, deputy director of the Minsk-based Institute for Socioeconomic and Political Studies, said a survey conducted in June indicates that just over half of the electorate opposes a third Lukashenka term. "The majority is against," he said. "Some 50 to 51 percent are against [Lukashenka seeking a third term in office]."
Sosnov said he has no doubt that voting in the referendum will be rigged in the president's favor. He said all election commissions in Belarus are controlled by the authorities. "Lukashenka understands that it is not important how people vote," Sosnov said. "What matters is how the votes are counted and who does the counting."
Sosnov said the referendum bodes ill for Belarus, since it indicates Lukashenka is preparing for lifelong rule. "The question asked in the referendum means a lifelong presidency for Lukashenka. I think [that] like Hitler, who won some five referendums, Lukashenka might arrange one more referendum -- let's say after some 15 years when he will be an old man with shaking hands," he said. "And what about a transfer of power to a son? It will not be a problem for him."
Valery Karbalevich is an analyst with the Strategic Center, an independent Minsk-based political think tank. He said Lukashenka's move indicates that Belarus is continuing to distance itself from Western values of democracy and is moving closer to the style of rule of the regimes in the Central Asian republics.
"The country is moving farther away from principles of European democracy, which practically exist in all European countries. Belarus is moving toward the Asian regimes, the regimes in Central Asia, where practically the majority of the presidents have prolonged their stay in power with the help of referendums," Karbalevich said.
Karbalevich said the referendum might have one positive outcome -- it might unite the opposition in Belarus, which he said now has a real chance to reflect the will of the majority. He said the referendum might also shift the focus of the parliamentary elections from the problems of wages or unemployment to a major political question -- the future of the Belarusian democracy and state. "In this context," Karbalevich said, "a referendum is a good chance for fragmented political parties and organizations to become a political force."
Interfax reported that some Belarusian opposition parties are already calling for a nationwide protest action to protect the constitution.