U.S. Says No Delay In Iraqi Elections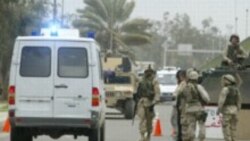 15 September 2004 -- A U.S. official says the United States and the interim Iraqi government have agreed there should be no delay in Iraqi elections scheduled for January because of the surging violence in the country.
John Danforth, the U.S. ambassador to the United Nations, said any poll delay would bring victory to those who rely on terror to accomplish their objectives.
"Everybody who cares about Iraq believes that the election should be held, and that the election should be held on schedule," Danforth said.
Danforth's comments came after around 70 people were reported killed on 14 September in Iraq in a series of attacks and fighting.
In the worst attack, at least 47 people -- would-be police recruits and civilians -- were killed and more than 100 others wounded in a car bombing outside a police headquarters in Baghdad's Haifa Street.
The attack was claimed by the group headed by Al-Qaeda-linked militant Abu Mus'ab al-Zarqawi.
(AFP/AP/Reuters)
For the latest news on Iraq, see RFE/RL's webpage on "The New Iraq".