UN Cites 'Massive' Turnout In Afghan Elections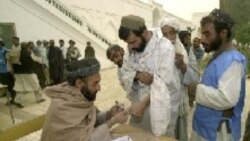 10 October 2004 -- (NCA) -- Turnout in Afghanistan's first-ever direct presidential ballot was "massive," a United Nations official said following yesterday's vote.
Spokesman Manoel de Almeida e Silva acknowledged there were "some problems" with the polls. He cited complaints the ink used to mark voters' fingers -- and prevent people from casting multiple ballots -- washed away easily.
Fifteen of the 16 candidates claimed the vote was marred by widespread fraud. The sole exception, incumbent leader Hamid Karzai, said he was satisfied by election officials' decision not to call for a recount.
Some 10.5 million Afghans were registered to vote, more than 41 percent of them women.
U.S. President George W. Bush today praised the Afghan vote as a remarkable achievement. British Foreign Secretary Jack Straw said Afghanistan had reached a "significant milestone" in its history.
(RFE/RL/AFP/AP)
[For more on the Afghan elections, see RFE/RL and Radio Free Afghanistan's dedicated "Afghanistan Votes 2004-05" webpage.]