HRW Urges: No Warlords In New Afghan Cabinet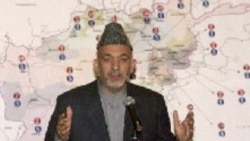 Afghanistan's president-elect, Hamid Karzai (file photo) 4 December 2004 -- Human Rights Watch (HRW) has called on Afghanistan's President-elect Hamid Karzai to avoid the appointment of warlords to his new cabinet once he takes office in an inauguration scheduled for 7 December.
In an open letter to Karzai posted on the U.S.-based watchdog group's website (http://www.hrw.org) and dated 3 December, HRW urges the Afghan leader to sideline militia leaders and others implicated in past and current human rights abuses.
Brad Adams, executive director of the Asia Division of Human Rights Watch, said Karzai has won a popular mandate from the Afghan people and faces a "big chance" to end impunity and warlord rule.
Adams urged Karzai to pressure NATO and the United States, both of which maintain a military presence in the country in an ongoing effort to combat terrorism, to provide troops and help improve security ahead of parliamentary and local elections tentatively slated for April.
Karzai
was elected by virtue of a majority of votes in the country's first-ever direct presidential election on 9 October.
Karzai has led the country's interim, and subsequently transitional, administrations since a U.S.-led military intervention ousted the Islamic fundamentalist Taliban regime in late 2001.
The national and local elections are expected to be
a major test
of the country's ability to institute democracy in the wake of decades of warfare, both internal and to oppose foreign troops.
(AFP)
[For more RFE/RL news, background, and analysis on the presidential and parliamentary elections, see our dedicated "Afghanistan Votes 2004-05" webpage.]