Turkmen Leader Sure Elections Will Be Democratic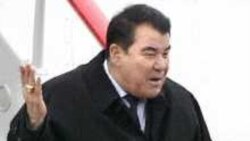 President Niyazov (file photo) 16 December 2004 -- Turkmen President Saparmurat Niyazov says he's confident that Sunday's (19 December) parliamentary elections will meet democratic standards.
The official "Neitralnyi Turkmenistan" newspaper today quoted Niyazov as saying Turkmen activists will ensure that the elections will be conducted "in accordance with the best models of representative democracy."
Turkmenistan has officially registered 140 candidates for the nation's 50-seat parliament.
Niyazov was declared president for life in 1999. Though he has suggested holding elections, there have been no clear efforts to plan for presidential elections and state bodies have rejected even discussing the issue.
Turkmenistan's government has refused to invite foreign observers to monitor the elections.
(RFE/RL's Turkmen Service and news department/AP)
[For more RFE/RL coverage and analysis of the 19 December parliamentary elections in Turkmenistan, click here.]