Analysis: Uzbek Government Allows Monitors In Torture Probe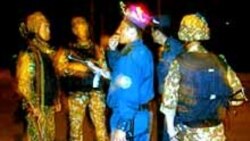 Do Uzbek police inspire respect as upholders of justice or fear as practitioners of torture? Two men died in police custody in Uzbekistan on 2 January. Samandar Umarov was a prisoner serving a 17-year sentence for being a member of the banned Islamist organization Hizb ut-Tahrir. Rayim Quldoshev was a resident of Jizzakh called in for questioning after a dispute that occurred on New Year's Eve. Very different in their particulars, the two cases share a crucial common element: allegations that both men died as a result of physical abuse.
Following a precedent established in the summer of 2004, the Uzbek government has agreed to have independent observers monitor an investigation of Umarov's death. Meanwhile, the unanswered questions about Quldoshev's death underscore the extent of a problem that stubbornly refuses to go away.
Nearing A Close
"RFE/RL Central Asia Report"
has already covered the disputed circumstances of Samandar Umarov's 2 January death. Uzbek human rights groups allege that Umarov died under torture, although the official cause of death was listed as a stroke. A few days after the incident, the Uzbek government approached the U.S.-based NGO Freedom House, asking it to observe an official investigation and agreeing to the participation of Uzbek human rights defenders and foreign specialists, Freedom House Senior Program Officer Margarita Assenova told RFE/RL on 12 January. The Uzbek observers are Abdusalom Ergashev, a specialist on religious rights, and Vohid Karimov, a medical doctor. The outside experts include Ronald Suarez, chief medical examiner of Morris County, New Jersey, and Drago Kos, a criminal investigator from Slovenia and chairman of the Council of Europe's anticorruption commission. The Polish, Swiss, and U.S. embassies will also monitor the investigation's progress.
Freedom House representatives met with a government commission chaired by Erkin Yuldashev of the Prosecutor-General's Office on 11 January. Participants agreed to make the investigation's results public, preferably in a news conference that will include members of the government commission as well as Uzbek and foreign observers. The observers have received a briefing from senior officials in Uzbekistan's penal system led by Prosecutor-General Rashid Qodirov. Interior Minister Zokir Almatov has assured the observers that they will have unrestricted access to the government commission's work. The investigation's conclusions are expected to be made public in the coming days.
A New Death In Custody
Against this backdrop, allegations of mistreatment emerged in the death of 32-year-old Rayim Quldoshev. Quldoshev died in police custody in Jizzakh on 2 January, RFE/RL's Uzbek Service reported on 12 January. Quldoshev's misfortunes began on 31 December, when he agreed to transport three or four individuals in his car. A dispute developed, and Quldoshev's passengers subsequently filed a complaint with the police in Jizzakh.
Quldoshev was called in for questioning at 10 a.m. on 2 January. Four hours later, he was dead. A heart attack was listed as the official cause of death, but Bakhtiyor Hamroev, head of the local branch of the Human Rights Society of Uzbekistan, told RFE/RL: "We don't believe the conclusion. According to our information, Rayim died after a blow to the chest while he was being interrogated by four policemen."
Another account on an Uzbek opposition website suggested that Quldoshev might have suffocated when police put a plastic bag over his head. Jizzakh police chief Olim Qosimov told the BBC that a criminal case has been opened in the wake of the incident, but he insisted that Quldoshev's death did not result from torture.
The official decision to conduct an investigation with the participation of outside observers comes after a similar inquiry examined the death of murder suspect Andrei Shelkovenko in 2004. That investigation found no evidence of torture.
Keeping The Peace?
Although no details of the new investigation are available yet, the Umarov case breaks new ground, since he was a convicted member of an Islamist group the Uzbek government views as a dangerous enemy of the state. Critics have argued, however, that it is the violent persecution of suspected Hizb ut-Tahrir members that ensures the government of Islam Karimov a steady supply of new enemies. This dispute has often set the terms of the debate over police brutality and torture in Uzbekistan, pitting Karimov's foes, who believe that the only real solution is the removal of the current administration, against the government and its supporters, who insist that tough methods are needed to fight the extremist threat.
For the vast majority of ordinary Uzbek citizens who are neither high-ranking officials nor active opponents of the government, the issue of police brutality and torture raises a much less theoretical question: Do the country's law-enforcement organs inspire respect as upholders of justice or fear as practitioners of torture? This is the question that UN special rapporteur on torture Theo van Boven raised when he dubbed torture in Uzbek prisons "systematic" in a widely noted 2002 report. And it is the specter that hangs over the allegations of mistreatment in the Quldoshev case.