OSCE Criticizes Kyrgyz Elections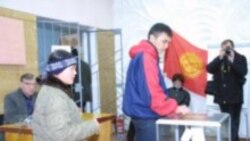 Voting on 13 March Bishkek, 14 March 2005 (RFE/RL) -- The Organization for Security and Cooperation in Europe (OSCE) said today that yesterday's runoff parliamentary elections in Kyrgyzstan showed "significant shortcomings" in the democratic polling process.
The OSCE says the runoff suffered from the same kind of problems that affected the first-round vote on 27 February, such as media bias, vote buying, and disqualifications of candidates. The OSCE said the first round fell short of international democratic standards. However, election observers from the Commonwealth of Independent States (CIS) are hailing yesterday's vote as well-organized, free, and fair. And Kyrgyz Central Election Commission Chairman Sulaiman Imanbaev said the polling took place without serious violations or complaints. Kyrgyz opposition supporters are continuing protests in several areas today over what they see as the widespread voting irregularities. The main protests are going on in Jalal-Abad, Uzgen, and Osh. (RFE/RL's Kyrgyz Service/AFP/AP/ITAR-TASS/Interfax)
For news, background, and analysis on Kyrgyzstan's 27 February parliamentary elections and the demonstrations leading up to the 13 March runoff, see RFE/RL's webpage "Kyrgyzstan Votes 2005".