Kyrgyz Authorities Pursue Ousted President's Son-In-Law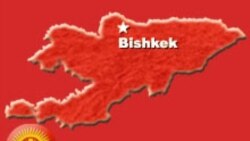 19 April 2005 -- Kyrgyz authorities have started a corrupt-business-activities criminal case that targets the son-in-law of ousted President Askar Akaev.
A National Security Service spokesman said today that the case involves Adil Toigonbaev, Akaev's son-in-law, and suspected illegal business machinations.
Toigonbaev's business activities were a target of some of the stone-throwing protestors who on 24 March burst into Akaev's office, forcing the presidential family to flee the country.
A chain of supermarkets that Toigonbaev allegedly controls was among the first businesses hit by a wave of looting that subsequently swept the capital Bishkek.
The country's interim president, Kurmanbek Bakiev, announced today a commission to list all the family's property and freeze trading in such assets.
(AFP)
Recent stories on Kyrgyzstan:
"How Wealthy Is The Ousted Kyrgyz Leader's Family?"
"Authorities, Bishkek Residents Alarmed At Land Seizures"
For more on events in the region, see RFE/RL's dedicated Central Asia in Focus webpage.]