East: GUUAM Summit In Chisinau Focuses On Separatism, Regional Cooperation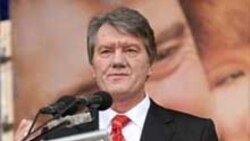 Ukraine's Yushchenko was active in Chisinau (file photo) The presidents of Georgia, Ukraine, Azerbaijan, and Moldova gathered today in the Moldovan capital of Chisinau for a summit of the regional grouping GUUAM (Georgia, Ukraine, Uzbekistan, Azerbaijan, and Moldova). It's the group's first gathering since "velvet revolutions" brought pro-Western leaders to office in Georgia and Ukraine, and Moldova shifted its foreign policy priorities toward the West. EU and NATO expansion have also altered the European political landscape. This evolving perspective laid the groundwork for today's gathering, which focused on separatism, regional cooperation, and promoting GUUAM's geopolitical profile.
Prague, 22 April 2005 (RFE/RL) -- Ukrainian President Viktor Yushchenko, who played the most active role of the leaders gathered for the GUUAM summit, said the group should step up cooperation in three key areas: democracy, security, and economic development.
With Ukraine, Georgia, and Moldova all looking toward the West, Yushchenko also stressed the need for GUUAM member countries to cooperate with the European Union.
"Our goal of creating a zone of stability, security, and prosperity is tightly linked with the European Union, and it should be [achieved by following] European rules and standards," yushchenko said. "I think in order to achieve it, we should enhance our cooperation, we should create a new international regional organization based on GUUAM, that should have its own office, its own secretariat, and its own plan of actions."
The second "U" in GUUAM, Uzbekistan, was not represented at the summit. Tashkent, which remains far removed from the more liberal inclinations of Kyiv, Chisinau, and Tbilisi, suspended its participation in the group almost three years ago. Its president, Islam Karimov, has suggested he may pull out of the group altogether.
The leader of oil-rich Azerbaijan, Ilham Aliyev, is also more conservative than most of his GUUAM counterparts, but did attend the summit and also urged better regional partnership.
"Our organization is experiencing a new stage in its development," Aliyev said. "I think it's one of the most important stages. The organization's position in world affairs and its effectiveness will both depend on the efficiency of our work. Our organization must be able to solve concrete issues, and promote a process of integration and bilateral as well as multilateral cooperation, in order to become a serious regional organization."
"Ukraine proposes that the current peacekeeping operations in the [Transdniester] region be transformed into an international mechanism of military and civilian observers under the aegis of the OSCE."
Breakaway regions, particularly Moldova's Transdniester, were also at the center of discussions today. The GUUAM leaders agreed that tackling the issue of separatism will help bolster regional security.
Yushchenko and his Romanian counterpart Traian Basescu, who also attended the meeting, were expected to propose a plan for resolving the Transdniester issue. In the end, however, the two reportedly failed to strike an agreement. Yushchenko stood alone in proposing a seven-step initiative aimed at using elections and other actions to promote a peaceful resolution of the issue.
"Ukraine proposes that free and democratic elections be held as soon as possible to Transdniester's parliament as the representative body of the Transdniester region within the Republic of Moldova, according to the legal conditions of the [current] status of Transdniester," Yushchenko said.
Georgian President Mikheil Saakashvili backed Yushchenko's proposal.
The GUUAM leaders also used the summit to touch on some domestic issues. Saakashvili and Aliyev spoke of separatism in Abkhazia and South Ossetia, and Nagorno-Karabakh, respectively. Saakashvili also spoke of Russia's continued military presence in Georgia.
"Russia's military bases are stationed in Georgia against the will of the Georgian people and do not serve the interests of Russia or Georgia, or our bilateral relations, or regional security," he said. "And we hope we will be able to agree, on acceptable terms, on a step-by-step, final withdrawal of the Russian military bases [from Georgian territory] before the [CIS] summit in Moscow [on 8 May]."
Yushchenko appeared to support Saakashvili's aim of limiting Russia's military presence in the post-Soviet countries. He also addressed the need to change the makeup of the peacekeeping forces in Transdniester, which comprise mainly Russian troops.
"Ukraine proposes that the current peacekeeping operations in the [Transdniester] region be transformed into an international mechanism of military and civilian observers under the aegis of the OSCE [Organization for Security and Cooperation in Europe]. And we express our readiness to increase the number of Ukrainian military observers in Transdniester," Yushchenko said.
Saakashvili also said that GUUAM leaders are ready to help Belarus towards democracy. The chairmanship of the group was also passed from Saakashvili to Moldovan President Vladimir Voronin at today's summit.
Lithuanian President Valdas Adamakus and Romania's Basescu also took part in the meeting as observers, and representatives from the OSCE and U.S. State Department envoy Steven Mann were in attendance.
(Vasile Botnaru, the head of RFE/RL's Chisinau bureau, contributed to this report.)