Tajik Opposition Party Leaves Presidential Body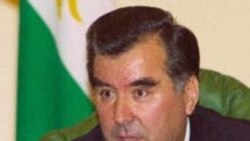 Tajik President Rakhmonov (file photo) Dushanbe, 4 May 2005 (RFE/RL) -- Tajikistan's Islamic Revival Party has suspended its membership in the country's presidential Public Council in protest over undemocratic conditions in the country's recent parliamentary elections, RFE/RL's Tajik Service reported.
Hikmatullo Sayfullozoda, a spokesman for the Islamic Revival Party, today explained the decision to RFE/RL: "One of the demands of [some members of the Public Council] was to investigate irregularities in the elections and to hold a new round of elections in the city of Dushanbe. Otherwise, the [Islamic Revival] Party would leave the council. So, the party decided to suspend its membership in the Public Council."

The Islamic Revival Party is the second opposition party to withdraw from the presidential body in two days. President Imomali Rakhmonov heads the Public Council, which brings together representatives of all the country's political parties, nongovernmental organizations, and cultural societies.

Yesterday, the Democratic Party said it has backed out of the president's council because their leader was arrested and because the last elections in the country were undemocratic.

Tajik authorities have arrested Democratic Party leader Makhmadruzi Iskandarov on charges of alleged terrorism, illegal arms possession, and embezzling state funds.