Kazakh Authorities Shut Down Independent Weekly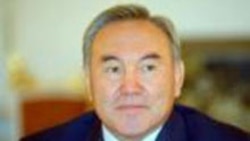 Kazakh President Nazarbaev Almaty, 6 May 2005 (RFE/RL) -- Sergei Utkin, a lawyer representing the independent Kazakh newspaper "Respublika," told a news conference yesterday that the Ministry of Culture, Information, and Sports has ordered the closure of the newspaper, RFE/RL's Kazakh Service and Interfax-Kazakhstan reported.
Galina Dyrdina, the newspaper's deputy editor in chief, said, "We believe that this order, these actions by the Information Ministry, are absolutely illegal and we will appeal these actions in court. We will definitely lodge an appeal," RFE/RL's Kazakh Service reported.

In a statement made public on the newspaper's website (http://www.respublika.kz/) on 5 May, the editors announced that they received an order the previous day from the ministry "liquidating" the newspaper; they noted that only a court has the authority to issue such an order.

Nevertheless, the editors explained that they decided to halt the distribution of the weekly's print run pending further action. The newspaper, which has frequently published articles critical of President Nursultan Nazarbaev, has a long history of clashes with the Kazakh authorities.