Uzbekistan: UN Human Rights Officials In Kyrgyzstan To Investigate Andijon Violence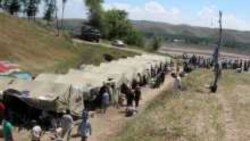 Uzbek refugees from Andijon in Kyrgyzstan (file photo) A team from the office of the United Nations High Commissioner for Human Rights arrived on 15 June in Kyrgyzstan to examine last month's violence in the city of Andijon, in eastern Uzbekistan. The investigation is set to last 10 days. During that time, the UN team will interview Uzbeks who fled to Kyrgyzstan after the 13 May clashes between government troops and protesters that left at least 173 people dead.
Prague, 15 June 2005 (RFE/RL) -- Four senior officials from UN High Commissioner for Human Rights are hoping to gain insight into the circumstances behind the Andijon deaths.

Jose Luis Diaz, a spokesman for the Geneva-based organization, told RFE/RL the delegates plan to meet with Uzbeks who sought refuge in Kyrgyzstan following the 13 May violence.

"They are going to be interviewing eyewitnesses and other people with firsthand knowledge of the events in Andijon in the middle of May," Diaz said. "The objective is to gain an overview into the circumstances of those incidents which, as has been reported, resulted in death of 173 people and, according to some reports, up to 800 people."

The UN officials make up the first international delegation to travel to the region since the Andijon events.

But the team will only get as close as Kyrgyzstan. Diaz says Tashkent rejected the team's request to visit Andijon.

"The high commissioner for human rights, Louise Arbour, on 18 May asked or called for an independent investigation into the events in Andijon," Diaz told RFE/RL. "But that was not possible. We were ready to participate in that investigation if it should take place in Uzbekistan, but now we are trying to get as much information as possible in Kyrgyzstan about the events and assess the need for any further investigation and we are, of course, ready to participate in any further inquires."

Uzbek President Islam Karimov has rejected a call by the United Nations, the European Union, and foreign governments for an independent international inquiry.

Witnesses say several hundred people, mostly civilians, were killed when troops moved to end a protest at what many people saw as an unfair trial of local businessmen. But Uzbek authorities dismiss such claims, saying only 173 people died in Andijon, and that troops did not open fire on unarmed civilians.

Tashkent says those killed were mostly "bandits" or "terrorists."

The UN fact-finding team is also investigating the plight of more than 400 Uzbeks currently seeking shelter near the Kyrgyz border city of Jalal-Abad.

Upon arriving in the Kyrgyz capital Bishkek, UN workers reported the security situation at the shelter was deteriorating rapidly. The UN has called for immediate protection guarantees for the asylum-seekers.

The camp was raided on 14 June by a group of men who threatened the Uzbeks with physical harm if they did not return home within three days.

Diaz says the UN is looking into the incident. He also expressed concern about four asylum-seekers who were returned to Uzbekistan last week.

"The UNHCR [the UN High Commissioner for Refugees] is very upset," Diaz said. "So are we. There is a danger, there is a risk, as we said in our statement yesterday, that anybody, all these people who are in the camp and claiming the asylum, their situation has to be fully examined and that nobody should be sent before their situation is looked at and scrutinized closely."

Uzbek human rights activists said the returnees might face prison terms and possible torture.

Diaz says his organization will attempt to determine the fate of the four returnees.

The UN human rights team will report its findings and recommendations to the high commissioner shortly after returning to Geneva later this month.