Kyrgyz President Suspends Powers As Premier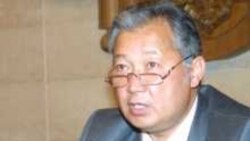 Interim President Kurmanbek Bakiev (file photo) Bishkek, 20 June 2005 (RFE/RL) -- Kyrgyzstan's acting President Kurmanbek Bakiev has signed a decree temporarily suspending his powers as the country's prime minister.
Bakiev signed the decree yesterday. It goes into effect today. The decree stays in effect until the end of presidential elections set for 10 July.
In other developments, Mukar Cholponbaev, a former speaker of parliament, was arrested on 18 June as an alleged organizer of the previous day's unrest in the capital Bishkek.
On 17 June, supporters of a disqualified presidential candidate briefly seized the White House, the main government building, demanding that his candidacy be restored. Police were called in to remove the protesters, and later dispersed larger crowds of protesters in the city center.
In another development, Bakiev yesterday fired Kyrgyzstan's deputy interior minister, Abdulda Suranchiev, after the unrest.
(RFE/RL's Kyrgyz Service/Interfax)
See also:

Officials Say Kyrgyz Capital 'Stabilized'

More news and features on Kyrgyzstan