Russian Minister 'Knows' Foreigners Planned Uzbek Uprising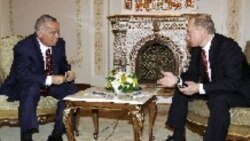 Uzbek President Karimov (left) with his Russian counterpart Vladimir Putin in Moscow yesterday 29 June 2005 (RFE/RL) -- Speaking after a meeting today with Uzbek President Islam Karimov, Russian Defense Minister Sergei Ivanov said Russia has detailed knowledge that an uprising in eastern Uzbekistan in mid-May was planned by foreign groups seeking to overthrow Uzbek authorities.
"We know how these events were prepared," Ivanov added.
The minister's comments support Karimov's repeated assertions,
including yesterday to Russian President Vladimir Putin
, that foreigners instigated the demonstrations in Andijon in May.
Uzbek officials claimed 176 people, mostly terrorists, died in the 13 May
violence in Andijon
. They maintain that armed demonstrators seized a military unit and then a prison and that police had to use force to restore order. (For a slide show of events on 13 May, click
here
.)
Rights advocates and witnesses say that authorities fired into crowds of peaceful demonstrators, killing 500 or more people, mostly civilians.
(ITAR-TASS)
[For an archive of RFE/RL coverage of the Uzbek unrest, click here.]