Kyrgyz President's Swearing-In Set For Mid-August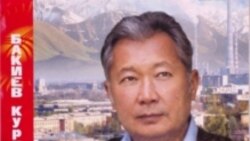 Acting President Bakiev (pictured on campaign poster) was widely expected to dominate presidential voting 18 July 2005 -- Authorities in Kyrgyzstan announced today that the inauguration of President-elect Kurmanbek Bakiev will take place on 14 August in Bishkek.
On 16 July, the country's Constitutional Court
formally recognized
Bakiev's victory in this month's presidential election.
Official results showed Bakiev winning nearly 90 percent of the vote, far ahead of second-place candidate and Ombudsman Tursunbai Bakir uulu's 4 percent showing.
Meanwhile, Prosecutor-General Azimbek Beknazarov told RFE/RL's Kyrgyz Service on 15 July that he plans to ask parliament in the fall to strip former President Askar Akaev of his immunity from prosecution. Akaev, who is currently residing in Russia, will then face charges of ceding Kyrgyz territory to China, illegally receiving a payment of $420,000 in his office, playing a role in the shooting of protestors in Aksy in 2002, and changing the constitution for personal reasons, according to Beknazarov.
(ITAR-TASS)
For more on the Kyrgyz election, see RFE/RL's dedicated Kyrgyzstan Votes 2005 webpage.