U.K. Court To Sentence Convicted Afghan Warlord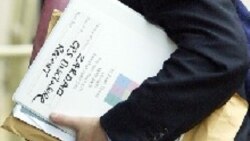 Zardad's counsel heads into the courtroom yesterday 19 July 2005 -- An Afghan warlord found guilty by a British court of torture and hostage taking during fighting in Afghanistan a decade ago is due to be sentenced today.
It is believed to be the first case of a foreign national tried in Britain involving human rights violations committed abroad. It also featured witnesses giving evidence anonymously via a satellite link.
Farayadi Sarwar Zardad was found guilty yesterday of atrocities against civilians in the early and mid-1990s, when he commanded an 80-kilometer area of territory east of Kabul. Zardad reportedly controlled a highway between the Afghan capital Kabul and the eastern city of Jalalabad.
Zardad moved to Britain in 1998 seeking asylum and was running a pizza parlor in south London when he was arrested by antiterrorism police in 2002.
(compiled from agency reports)
More Afghan news:
"Karzai Arrives In Britain"
"Race To Preserve Historic Minarets Of Herat, Jam"
(with slide show)