U.S. To Finance Exit Poll In Azerbaijan Election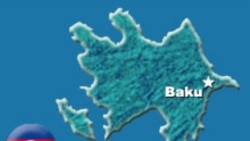 27 July (RFE/RL) -- The United States plans to finance an exit poll in Azerbaijan's November parliamentary elections to ensure a free and fair ballot.
The U.S. Embassy in Baku said on 26 July that such a poll can provide an early indication of probable election winners, and serves as one indicator of possible election fraud. It said the exit poll will be conducted by an experienced international organization in cooperation with Azerbaijani polling bodies.
The embassy described the poll as one of many activities that the United States government is undertaking to help Azerbaijan reach its goal of having free, fair, and democratic elections.
The October 2003 presidential vote -- in which President Ilham Aliyev succeeded his late father -- was widely alleged to have been fraudulent. It triggered clashes between police and demonstrators.
(AP)
See also:

West Maintaining Strong Pressure For Democratic Ballot

Azeri Leadership Ignoring Election Pressure