U.S. Would Regret Russian Move To Bar Journalists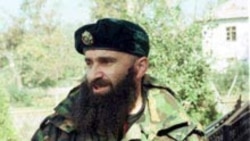 Shamil Basaev (file photo) Washington, 2 August 2005 (RFE/RL) -- A U.S. State Department spokesman says Washington would regret any move by Russia to bar journalists from a U.S. broadcast network from operating there.
Spokesman Tom Casey said today the State Department was seeking to confirm reports that Russia would not renew accreditation of reporters for the ABC television network. He defended the right of media to operate freely.

Russia acted after ABC's broadcast of an interview with radical Chechen separatist commander Shamil Basaev, who is wanted by Russia for alleged terror attacks.

"We certainly respect ABC's right as a news organization to operate as it sees fit and in that sense I think we believe that ABC as well as all other members of the media should have the opportunity for freedom of expression and have the right to report as they see fit," Casey said.

Casey said the government had no role in the airing of the interview last week and that the administration of U.S. President George W. Bush deplores the actions of terrorist groups in Chechnya.