Russia: Moscow Says It Will Punish U.S. TV Network Over Basaev Interview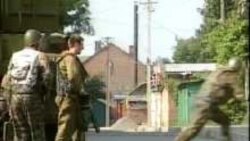 Basaev took responsibility for the Beslan school attack in September 2004 Russia's Foreign Ministry has announced it will not renew the accreditation of reporters working for the U.S. ABC television network. A ministry statement made public yesterday said the decision was in retaliation for ABC's airing of an interview with radical Chechen field commander Shamil Basaev. The ABC interview was broadcast in the United States and not meant for Russian audiences. But it caused an uproar in Moscow. Basaev has claimed credit for multiple attacks against civilian and military targets in Russia. Under domestic antiterrorism legislation, Russian media are barred from interviewing him.
Prague, 3 August 2005 (RFE/RL) -- Shamil Basaev is Russia's most-wanted terrorist, with a $10 milion bounty on his head.

He has claimed credit for some of the worst terrorist acts in recent Russian history, including the 2002 Moscow theater takeover and last year's Beslan school hostage taking that ended in the killing of more than 330 people, most of them children.

The Russian authorities were quick to voice their anger with ABC. On 2 August, the Foreign Ministry announced it would not renew the accreditation of journalists working for the station in Russia, once the documents expire.

The ministry said the move was a direct consequence of ABC's interview with Basaev. It said the interview aided "the propaganda of terrorism" and contained direct calls for violence against Russian citizens.

ABC expressed shock. The network late yesterday issued a statement saying it regretted Moscow's action but that it could not allow any government to prevent it from reporting the news "fully and accurately."

U.S. State Department spokesman Tom Casey, speaking yesterday in Washington, said the United States government condemned actions claimed by Basaev in the strongest possible terms.

"We certainly believe that the actions taken by certain terrorist groups in Chechnya, certainly the actions taken at the school in Beslan and some of the other terrorist activities that have gone on, are absolutely deplorable," Casey said. "We condemned them at the time. We continue to condemn them. We believe that those kinds of attacks on innocents, whether they occur at Chechnya, whether they occur anywhere else in the world are simply unacceptable. They are not a legitimate form of political expression."

But at the same time, Casey said the United States does not believe censoring or punishing the media is legitimate. "I don't think, if in fact, ABC is to somehow be banned from reporting in Russia that that would be a positive statement about freedom of expression," he said.

When ABC aired the interview last week, Ted Koppel, the host of the "Nightline" program, emphasized that "broadcasting an interview with someone does not imply any sort of approval of that person or his actions."

Koppel noted that ABC had broadcast interviews with thieves, murderers, dictators, and even child molesters -- always putting the conversation in the proper context. That, he said, is a reporter's job.

The network also offered the Russian Embassy in Washington time on its program, to air its point of view.

Rohan Jayasekera, who works for the British-based Index on Censorship, a monitoring organization that deals with issues of media and government censorship, told RFE/RL that the Russian Foreign Ministry's decision to revoke the accreditation of ABC journalists is a radical step, but it follows an established Kremlin pattern.

"There have been broadcasts by television companies in Britain of interviews with Chechen separatists that have resulted in complaints by the Russian government directly to the Foreign Office and also complaints to broadcasting authorities, complaining about the use of the material," Jayasekera said. "Russia has been determined for some years to use all possible means to silence the broadcast of the views of Chechen separatists, not only in Russia, but internationally as well."

Those complaints have all been politely turned down, with the explanation that in a democratic society, the government cannot influence the work of independent media.

Jayasekera noted the British government has learned from its own mistakes. Faced with its own battle with terrorism, it tried a form of internal media censorship in the 1980s, in the midst of deadly bombings by the Irish Republican Army (IRA).

British television was told to stop airing interviews with members of the IRA and other similar groups. Specifically, a ban was imposed on broadcasting the voice of their representatives.

Then Prime Minister Margaret Thatcher famously declared it was time to starve terrorists of the "oxygen of publicity on which they depend."

But as Jayasekera recalled, the policy was discredited and eventually repealed. "This was challenged in various ways by the British media. It made the exercise completely pointless at the end of the run of the system," Jayasekera said. "Actors were being used to overdub the voices of the actual IRA figures themselves. The end result of it was that it was ridiculed around the world for its pointlessness and lack of effect. And so that experience has influenced broadcasters, particularly in Britain, but also further across in Europe."

Ultimately, decisions on whether to give a terrorist airtime should be based on professional criteria, Jayasekera said.

"There's a journalistic decision to be made, a professional decision to be made, as to whether the audience will learn something new about the motivations of an individual, of an organization, especially when the actions of that individual, individuals, or organization have a serious or possibly dangerous effect on their lives. At that point, it becomes a matter of public interest. And [broadcasters] have a duty to report this," Jayasekera said.

The interview with Basaev was conducted by veteran Russian war correspondent Andrei Babitskii. Babitskii, who is an RFE/RL staffer, was not on assignment for RFE/RL at the time.

In the interview, Babitskii repeatedly pressed Basaev for an explanation of his actions, including the seizure of children as hostages.

In response, Basaev accepted the label "terrorist." But he justified his actions by saying he saw no other way to stop Russian atrocities in Chechnya.