Kyrgyz Villagers Suspend Protest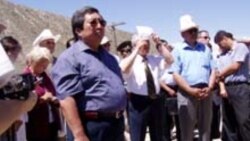 Participants vowed to continue their protest if their demands are not met 3 August 2005 (RFE/RL) -- Villagers protesting pollution from a gold mine in northern Kyrgystan today suspended their movement after the government promised to look into their demands.
The protesters are seeking financial compensation for a
1998 cyanide-pollution accident
at the Kumtor mine that contaminated a nearby river. They had been
blocking the road
leading to the mine since last week.
Residents of Barksoon village say the money the Canadian company who was then operating the mine claims it paid the government to compensate for the pollution was diverted.
Tursunbek Akun, who chairs President Kurmanbek Bakiev's Human Rights Commission, said that despite the recent change of regime the government still has obligations toward the victims of the environmental damage.
"All the demands of Barksoon villagers are right," Akun said. "[The government] has to pay compensation, it has to grant them an allowance and it has to take care of ill people there. At [the] time [of the accident], Kumtor Gold Company granted an allowance of 92 million soms (about $2 million). However, the money was misspent and it has not been traced yet."
The demonstrators say they will resume their protest movement if the government does not meet their demands within one month.
(Kyrgyz Service)
See also:

Kyrgyz Protests Continue Over Cyanide Pollution