U.S., Britain Aid In Russian Sub Rescue Effort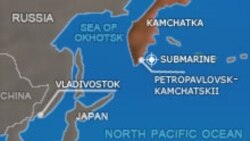 5 August 2005 (RFE/RL) -- Spokesman for the Russian Navy Captain Igor Dygalo said today that the United States and Britain are helping in efforts to rescue the crew of a disabled Russian submarine lying on the Pacific Ocean floor off the Kamchatka Peninsula.
Dygalo said the United States is flying an unmanned rescue vehicle from a naval base in San Diego to the site where the Russian mini-submarine sank to the bottom after apparently becoming entangled in a fishing net at a depth of 190 meters.
Dygalo said the clock was running out for the crew.
"Unfortunately the real situation now is that there is enough air only for 24 hours. The rescue operation will continue around the clock, without any breaks or interruptions," Dygalo said.
Dygalo said Britain was providing quote "rescue means" for the operation, but he did not elaborate on those means.
Russia has asked for assistance from Japan, which has dispatched several rescue craft. But Tokyo said earlier the boats would not reach the area until early on 8 August.
(AP/Interfax)
See also:

Russian Navy Says Sub Only Has Oxygen For 24 Hours