Former Kyrgyz PM Returns To Face Corruption Charges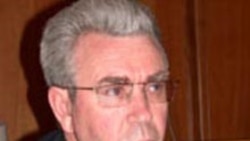 Nikolai Tanaev 22 August 2005 (RFE/RL) -- Former Kyrgyz Prime Minister Nikolai Tanaev is being questioned by Kyrgyzstan's Prosecutor-General's Office after returning to the country from voluntary exile.
Tanaev is accused of corruption and abuse of office. Tanaev is quoted by ITAR-TASS, however, as saying no charges have yet been brought against him. He denies any wrongdoing.

He had been living in Russia following the protests in March that led to the ouster of President Askar Akaev.

The Prosecutor-General's Office has also charged two members of the former president's family with corruption -- his son, Aidar Akaev, and son-in-law, Adil Toigonbaev, who is a Kazakh citizen.

Meanwhile, the former president's lawyer, Maksim Maksimovich, tells RFE/RL that Aidar Akaev intends to return to Kyrgyzstan from Russia to begin his duties as a deputy in the Kyrgyz parliament starting in September.

Kyrgyz Prosecutor-General Azimbek Beknazarov says he intends to ask parliament to consider removing Akaev's immunity from prosecution.