Azerbaijan Rejects Opposition Accusations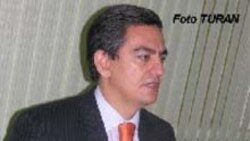 AXCP leader Ali Kerimili (file photo) 23 August 2005 (RFE/RL) -- Azerbaijan's National Security Ministry has rejected allegations that it is plotting to overthrow the leadership of the opposition Popular Front Party (AXCP).
Ramiz Tagiyev, an adviser to AXCP chairman Ali Kerimli, on 22 August told reporters in Baku that a few weeks ago he had let himself be recruited by security officers in a bid to learn about the government's plans ahead of the 6 November legislative polls.
Tagiyev said that
the recent arrest
of an opposition youth leader accused of
receiving foreign money
to overthrow the government is part of an anti-AXCP scheme that aims at securing the ousting of the party's leader, Ali Kerimli.
The 4 August arrest of Ruslan Basirli sparked a wave of anti-opposition protests throughout the country, with pro-government demonstrators demanding the closure of the AXCP.
National Security Ministry spokesman Arif Babayev on 22 August described Tagiyev's accusations as "absurd."
(Turan/Azad Azerbaycan)