PACE President Urges Fair Elections In Azerbaijan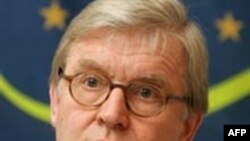 PACE President Rene van der Linden (file photo) (AFP) 23 August 2005 -- A Council of Europe envoy today called on Azerbaijan's government and opposition to ensure upcoming parliamentary elections are fair, saying the poll is an opportunity for the country to show it is a democratic nation.
Rene van der Linden, president of the Parliamentary Assembly of the Council of Europe, made the remarks in Baku one day after meeting separately with Azerbaijani President Ilham Aliyev and opposition leaders in the capital.
Van der Linden said it is important to admit poll observers from nongovernmental organizations. He also urged authorities to investigate violations registered in the 2003 presidential election so as to be able to restore people's trust in elections.
Van der Linden's visit comes several days after reports of attacks against opposition activists, and official charges that the leader of an antigovernment youth movement had received foreign money to form a revolution.
(ITAR-TASS/Interfax)
For RFE/RL's full coverage of Azerbaijan and the upcoming elections, see "News And Features On Azerbaijan"