Another Azerbaijani Activist Detained Ahead Of Polls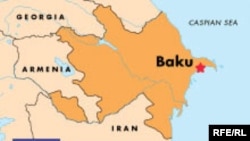 (RFE/RL) 12 September 2005 -- Azerbaijani authorities have detained another opposition youth activist on suspicion of plotting against the state, according to a local news report.
Azerbaijan's independent Turan news agency quoted lawyer Yavar Huseyn as saying police today apprehended Said Nuri, the deputy head of the Yeni Fikir (New Thinking), movement. Huseyn said Nuri was remanded in custody on accusations that he received money to prepare a coup.
Yeni Fikir Chairman Ruslan Basirli was arrested last month on similar charges. Azerbaijani authorities have accused foreign countries and organizations of seeking to stir unrest in the run-up to the 6 November parliamentary elections. National Security Minister Eldar Mahmudov today warned that his agency will take all necessary steps to prevent instability in the country during the polls.
Some 20,000 opposition supporters rallied on 10 September in central Baku to demand free and fair elections. Foreign governments, including the United States, have urged Azerbaijani officials to ensure that the vote is democratic.
(with additional AP reporting)
For RFE/RL's full coverage of events in Azerbaijan and the runup to the November elections, see "News And Features On Azerbaijan"