Azerbaijani Election Officials Bar Islamic Party Leader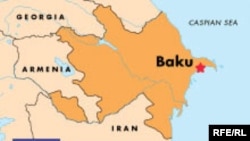 (RFE/RL) 14 September 2005 -- Azerbaijani electoral officials today barred the leader of the country's Islamic Party from standing as a candidate in upcoming parliamentary elections.
Vivadi Mahmudov, the head of the Central Electoral Commission, said Hajiaga Nuriyev formally applied as a member of an opposition political bloc.
However, he was also listed as standing for the Islamic Party, which is not registered by the Justice Ministry. Mahmudov said that under the Azerbaijani electoral law, religious activists do not have the right to run for parliament.
Nuriyev accused the authorities of barring him because of his popularity in the district outside Baku where he wants to compete and denied he was running as a candidate for the Islamic Party.
(AP)