Afghan Candidate Gunned Down Days Ahead Of Vote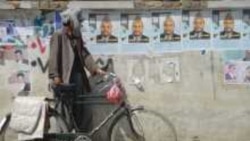 Security concerns have prompted many candidates to forego campaign appearances in favor of printed materials 16 September 2005 -- Local authorities in Afghanistan's southern Helmand Province said suspected neo-Taliban gunmen killed a candidate late yesterday, just three days before the country's landmark elections.
A spokesman for the provincial governor said the killers dragged candidate Abdul Hadi from his home before shooting him.
Hadi became the seventh candidate to be killed ahead of Afghanistan's elections for the lower house of a new National Assembly and for 34 Provincial Councils around the country.
Hawa Nuristani, a female candidate for a National Assembly seat, was wounded in a gun attack the previous day. She remains in critical condition.
In an interview with RFE/RL days before the attack, Nuristani had spoken about death threats against her and the major challenges facing Afghan women.
Four election workers have also been killed in attacks which authorities blamed on the Taliban, and seven prominent clerics who came out in favor of the government or the election process have also been killed.
The neo-Taliban have denounced the elections and called on Afghanistan's 12.5 million registered voters to boycott the poll, the first parliamentary elections in more than 30 years. (For a slide show on election preparations, click
here
. Flash required.)
Despite the ongoing violence, the polls are seen as a major political milestone for the country after decades of war.
(Reuters/AP)
Related stories:

"Key Parliamentary, Provincial Elections Approach"

"Kabul Says Taliban Cannot Derail Afghan Vote"

"Banning Of Candidates Complicates Parliamentary Ballots"

[For background and an archive of RFE/RL coverage of these and last year's presidential elections, click here.]