Bakiev Urges Debt Restructuring For Developing States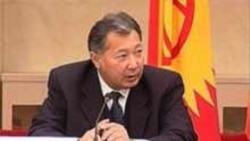 Kurmanbek Bakiev (file photo) United Nations, 16 September 2005 (RFE/RL) -- Kyrgyz President Kurmanbek Bakiev, told the United Nations today that his country is well on its way to developing a strong democracy and market economy, but that progress is being hampered by its large external debt.
Addressing the UN General Assembly, Bakiev said he hopes the Paris Club would restructure Kyrgyzstan's debt so Bishkek can meet its economic goals. The Paris Club is an informal group of 19 wealthy nations that help relieve the debt of debtor countries.

Bakiev said these and other developed countries should increase aid to developing countries, especially mountainous nations like his own.