Kyrgyz Lawmakers To Carry Arms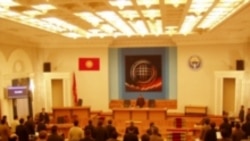 The Kyrgyz parliament (file photo) Bishkek, 23 September 2005 (RFE/RL) -- Kyrgyzstan's parliament has passed a measure allowing lawmakers to carry arms, RFE/RL's Kyrgyz Service reported.
The legislation last night comes a day after the parliament's speaker said he knew of the existence of a hit list of legislators marked for assassination.
Parliament Speaker Omurbek Tekenbaev made the announcement on 22 September, a day after an unidentified assassin
gunned down lawmaker Bayaman Erkinbaev
in the center of Bishkek.
Erkinbaev's slaying sparked an emergency session in parliament, where President Kurmanbek Bakiev accused lawmakers of bribing police and other law enforcement agencies.
Prime Minister Feliks Kulov was also at the session. He leveled similar accusations, saying honest police officers are afraid to fight criminals.
Erkinbaev was the second Kyrgyz lawmaker to be murdered in three months. In June,
Zhyrgalbek Surabaldiev
was also assassinated in Bishkek.
(RFE/RL's Kyrgyz Service, ITAR-TASS)
See also:

"Violence On Rise As Election Nears"