Otunbaeva Not Approved As Kyrgyz FM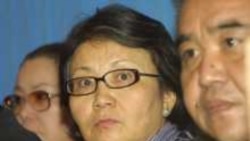 Roza Otunbaeva (file photo) 27 September 2005 (RFE/RL) -- Kyrgyzstan's parliament today debated President Kurmanbek Bakiev's cabinet nominations, approving some but rejecting others.
The most notable rejection was Roza Otunbaeva to be foreign minister. Otunbaeva served in that post for a time in the 1990s when Askar Akaev was president.
Five other nominees were rejected, among them Ishenbai Kadyrbekov, nominated to be minister of transportation and communications.
Prime Minister Feliks Kulov said he was surprised by the outcome, but told reporters that new candidates for vacant posts will be nominated shortly.
Ten nominees were confirmed by parliament.
See also:

More news and analysis on Kyrgyzstan