Report: China To Build Pipeline For Russian Oil Imports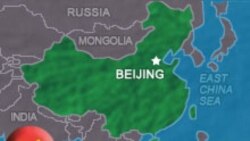 28 September 2005 -- A Chinese report says a private Chinese company is planning to build China's first pipeline to Russia to carry Siberian oil to China.
The official "China Daily" newspaper in Beijing said the planned 30-kilometer project would link railway lines between Heihe in northeast China's Heilongjiang Province and the eastern Siberian city of Blagoveshchensk, across the Amur River.
The report said the line is to be built by the Heihe-based Xinghe Industries, in cooperation with the Lanta Oil Company of Moscow at a cost of $64 million.
The report said the project is expected to begin operations in September 2006 and have an initial annual capacity of 21 million barrels.
(AP)
For more news about Russia, see RFE/RL's webpage News and Features on Russia