Nalchik Hostages Reported Freed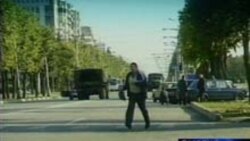 The Nalchik violence on 13 October 14 October 2005 -- Russian officials say they have freed seven hostages who were held in two locations in Nalchik, one day after a coordinated assault by militants on police and government facilities on the capital of Kabardino-Balkaria.
Russian Deputy Prosecutor-General Vladimir Kolesnikov says two women hostages were freed from a souvenir shop and three militants were killed today. At least one of the hostages has been taken to hospital.
In a separate hostage situation, Russian forces earlier today reportedly rescued five hostages and killed eight militants as they were trying to flee.
At least 85 people were reported killed in Nalchik during a 13 October assault, which Chechen separatists have claimed responsibility for organizing.
Russian authorities said 61 of those killed were militants, 12 were reportedly members of the security forces, and 12 were civilians. Officials said 17 militants were detained. More than 100 other people were injured in the fighting.
(AP/dpa/ITAR-TASS)
See also: Kabardino-Balkaria: A Deteriorating Situation and Situation Remains Tense In Kabardino-Balkaria