Andijon Witness Testifies That Troops Shot Civilians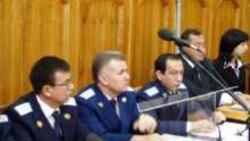 Prosecutors at the Andijon trial (file photo) Tashkent, 14 October (RFE/RL) -- A witness at the trial of 15 people accused of organizing an anti-government revolt in the eastern Uzbek city of Andijon said today that government troops opened fire on civilians during the crisis, RFE/RL's Uzbek Service reported.
Mahbuba Zakirova told the court that during
the 13 May events in Andijon
, she was in a crowd of people surrounded by soldiers when troops started shooting at them.
''The helicopter started hovering over our heads, it was very low," Zakirova said. "We got excited that Karimov is really coming to talk to us. But instead soldiers who were circling us started shooting people. There were few armed people among the crowd, most of them were children."
It's the first time in the course of the trial that a witness testified against the government's version of the events.
On 3 October, Uzbek soldiers testified that they had offered protesters safe passage out of the city, but that protesters started firing on hostages.
Prosecutors say that protesters were killed by other protesters in confused fighting.
Uzbek authorities say 187 people -- mostly Islamic militants -- were killed in the Andijon violence. Rights groups say many more, including civilians, were killed.
The 15 defendants have all admitted guilt to charges of membership in banned Islamic groups, terrorism and murder. They all face possible execution.
For RFE/RL's full coverage of the Andijon unrest and its aftermath, see "Unrest In Uzbekistan"