Azerbaijani Police Disperse Rally, Make Arrests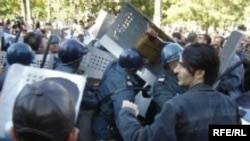 Police moving against opposition demonstrators in Baku on 23 October (RFE/RL) 23 October 2005 -- Azerbaijani police forcibly dispersed an opposition rally in Azerbaijan's capital Baku today, using truncheons on some of several hundred estimated demonstrators who turned out to defy an official ban on such gatherings.
RFE/RL's Azerbaijani Service cited police officials as saying around 15 protesters have been detained. Opposition leaders claim the number is closer to 100, and that many have been injured, some seriously.
AP reported earlier today that several hundred demonstrators had defied a ban on public protests, gathering in central Baku to call for the 6 November parliamentary elections to be free and fair.
AP reported that some 100 riot police used truncheons to disperse the rally, the latest in a series of opposition protests in the run-up to the November vote.
Authorities have warned
they will crack down harshly on any protesters who defy the ban on gatherings in the center of the city.
Among those detained was Panah Husein, a parliamentary candidate with the opposition Azadliq (Freedom) election bloc.
Deputy police chief Yashar Aliyev said Husein will be released.
Azerbaijan's election code grants political candidates immunity from prosecution.