Latvian PM Blacklists Berezovskii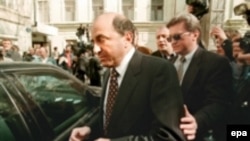 Boris Berezovskii (file photo) (epa) 26 October 2005 -- Latvian Prime Minister Aigars Kalvitis has signed an order barring self-exiled Russian tycoon Boris Berezovskii from entering the country.
Kalvitis has said he believes Berezovskii poses a threat to Latvia and that his trips have created problems for Riga.
Russia has criticized Latvia for not honoring its commitments to Interpol. Moscow has issued an international arrest warrant for Berezovskii on suspicion of money laundering.
Berezovskii has said his two trips to Latvia this year were tied to charitable and business ventures. He has accused the Latvian government of caving in to pressure from Moscow.
(A))