OSCE To Help Kazakhstan Dispose Of Toxic Fuel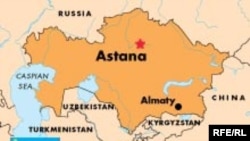 (RFE/RL) Prague, 31 October 2005 (RFE/RL) -- OSCE experts are beginning a five-day visit to Kazakhstan today aimed at helping the country recycle highly explosive missile fuel, commonly known as "melange."
The visit is part of a project by the Organization for Security and Cooperation in Europe intended to provide technical and financial assistance to find a suitable way to carry out the disposal of the toxic substance. The explosive missile fuel poses a potential threat to human health and the environment.
Based on the findings and recommendations of the experts, the OSCE will seek extra-budgetary contributions to implement the project.
The project will be managed by the OSCE center in Almaty.