Azerbaijani, Ukrainian Presidents Discuss Elections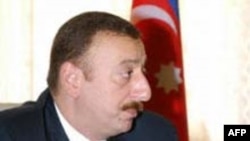 President Ilham Aliyev (file photo) (AFP) Baku, 4 November (RFE/RL) -- Azerbaijan President Ilham Aliyev and Ukrainian President Viktor Yushchenko held a telephone conversation today to discuss, among other topics, Azerbaijan's upcoming parliamentary election, RFE/RL's Azeri Service reported.
Media reports said Aliyev told Yushchenko that Ukraine's decision not to extradite exiled Azerbaijani opposition leader Rasul Quliyev when he was detained in Simferopol, in Ukraine, some three weeks ago was met in Baku with "dismay and sadness."
Quliyev was detained in Simferopol on 17 October at the request of Azerbaijan's authorities while reportedly returning to Baku. Three days later, a Ukrainian court dismissed the extradition request and released him.
Quliyev, the leader of the Democratic Party of Azerbaijan, is registered to run in the 6 November election. He has been living in the United States since 1996.
He is wanted in Azerbaijan on embezzlement charges. The authorities, who also accuse him of plotting to overthrow the government, say he would be arrested and put in jail as soon as he enters the country.
(with RIA-Novosti/Interfax)
Azerbaijan Election Special

RFE/RL's complete coverage of the November 6, 2005, legislative elections in Azerbaijan and their aftermath.
Timeline: How The Elections Have Unfolded

A photo gallery of the Azerbaijan opposition protests in Baku on November 9, 2005.