EU Foreign Ministers Expected To Warn Belarus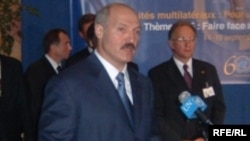 President Lukashenka at the UN in September 2005 (RFE/RL) Brussels, 7 November 2005 (RFE/RL) -- Foreign ministers of the 25 European Union member states are expected to address the struggle for human rights and democracy in Belarus during a meeting today in Brussels.
The foreign ministers are expected to warn that sanctions could be expanded if next year's presidential election, in which President Alyaksandr Lukashenka is seeking another term, do not meet international standards.
The EU currently imposes visa restrictions that affect six top Belarus officials, banning them from entering the EU.
A European Commission spokeswoman, Emma Udwin, told RFE/RL that the EU is watching the run-up to the 2006 election with great concern.
She said the EU is seeking, however, to avoid alienating the Belarusian population as a whole with measures such as broad economic sanctions.
(With Reuters reports)