EU Ministers Approve Warning To Belarus On Fair Elections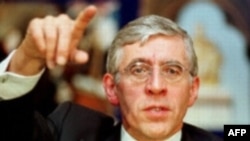 Jack Straw chaired the meeting (file photo) (AFP) 7 November 2005 (RFE/RL) -- EU foreign ministers today approved a statement warning Belarus of the possible imposition of "restrictive measures" unless next year's presidential elections are free and fair, AP reported.
British Foreign Secretary Jack Straw, who chaired the Brussels meeting, said the document makes clear that if Belarus fails to uphold international standards, measures could be taken against those officials responsible.

Benita Ferrero-Waldner, the EU's external relations commissioner, said earlier that Minsk will be given the opportunity to meet EU demands before possible sanctions are imposed.

"I think it is very important to also give the chance to Belarus government to comply with our request and comply with the standards," Ferrero-Waldner said. "And at the same time, I mean, the message is very clear and very firm, and I think they should hear it."

The measures envisaged by the EU include denying visas for officials responsible for election violations. Six Belarusian officials are already subject to an EU visa ban on suspicion of being involved in the disappearance of opposition figures and the violent repression of demonstrations.