Prague, 10 November 2005 (RFE/RL) -- The carnage from the three closely timed blasts was horrific. One of the explosions, at the Radisson SAS hotel, caught a large group of Jordanians celebrating a wedding.
"There [are] a lot of people injured, and some of them are from my family and some are from my wife's family, as well," said the groom, Ashraf al-Khaled, speaking shortly after the blast. "Myself, I lost my father, I lost my father-in-law, and a couple of friends, as well. My friend, he lost his mom and dad, and it's quite a mess, what happened tonight."
Two other bombs went off at the Grand Hyatt hotel and at a Days Inn.
All three luxury hotels are frequented by Westerners but also popular with Jordanians. The Radisson is said to also be popular with tourists from Israel.
Most of the victims in the three blasts are believed to have been Jordanians.
Identifying The Culprits
Jordanian Deputy Prime Minister Marwan Muasher said he suspects suicide bombers.
"We do not know why this has been done," he said. "Obviously, anybody who blows himself up in a wedding hall is not somebody who wants the good of this country or the good of any human being."
RFE/RL's correspondent in Amman, Hazem Mubaideen, said security officials believe Al-Qaeda's leader in Iraq -- Abu Mus'ab al-Zarqawi -- is responsible.
"Jordanians know that al-Zarqawi's organization is targeting Jordan's role in Iraq, the role of calling for national reconciliation and participation of all groups in the current political process in Iraq," Mubaideen said. "Jordan's role supporting the establishment of a Palestinian state and the political [peace] process in the Middle East is also targeted by al-Zarqawi's organization."
A statement published on an extremist Islamist website has claimed responsibility for the three bombings in the name of Al-Qaeda in Iraq. But its authenticity could not be immediately verified.
The Jordanian-born al-Zarqawi was sentenced to death in absentia by a Jordanian court in 2003 for plotting attacks in Jordan against U.S. and Israeli targets. He is suspected of organizing the assassination of U.S. diplomat Laurence Foley in Amman in 2002.
A History Of Vigilance
But if yesterday's attacks have shocked Jordan, some observers say they should not have come as a surprise.
"Things have been reasonably quiet in Jordan considering that it shares such an extensive border with Iraq," said Neil Quilliam, a regional expert with the London-based consultancy group Control Risks. "However, it is not a surprise that these attacks have taken place. Jordan's peace treaty with Israel has soured relations between the Jordanian government and elements of the population. And the Jordanian government's close alliance with the U.S. and its kind of implicit support for the war in Iraq, certainly during the early stages of the campaign, has left the country vulnerable to attacks."
He noted that Jordan has a large population of Western business people, who are potentially "soft targets" for extremist groups.
Until now, Jordan's security forces have had success in foiling a number of plots targeting Western interests.
Foiled attacks include the so-called "Millennium plot" against four hotels frequented by foreign tourists in 2000, including the Radisson in Amman.
In 2004, security forces interrupted a plot to hit the U.S. Embassy and the headquarters of Jordanian intelligence in Amman.
The arrested plotters are believed to have had loose connections with Al-Qaeda and other extremist anti-Western groups. Some gained experience in Afghanistan prior to 2001 or in Iraq fighting with insurgents.
But not all attacks have been prevented. Suspected members of al-Zarqawi's network fired Katyusha rockets at two U.S. warships in Jordan's Red Sea port of Aqaba in August, narrowly missing their targets. One Jordanian soldier was killed.
Authorities in Jordan are reported to have made several arrests in connection with the bombings. The announcement came in a statement today from an unidentified security source on the state-run news agency Petra.
Attacks Continue In Neighboring Iraq
Meanwhile, in Iraq, the pace of insurgent bombings shows no sign of letting up.
Police said a suicide bomber detonated explosives in a restaurant in central Baghdad today, killing at least 30 people and injuring some 20 others.
The explosion came shortly after British Foreign Secretary Jack Straw arrived in Iraq's capital for talks with Prime Minister Ibrahim al-Ja'fari.
Exclusive Interview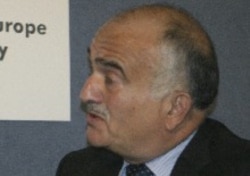 HIS ROYAL HIGHNESS PRINCE EL HASSAN BIN TALAL
of Jordan spoke to RFE/RL on 10 October, sharing his thoughts on the potential of Iraqi violence to destabilize other countries in the Middle East, including Jordan. For the complete interview,
click here.