Alleged Militants Killed In Chechen Capital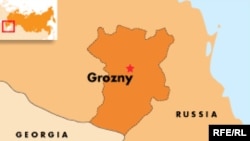 (RFE/RL) 12 November 2005 -- Interior Ministry officials in Chechnya say they have killed an alleged militant after he had refused to surrender during a standoff on the outskirts of Grozny.
Earlier, police said they had attempted to apprehend a group of illegally armed men when shooting started. One militant was killed immediately, and two were detained.
But a fourth man fled to a house, from which he started shooting at police. Chechnya's Interior Ministry said police returned fire, killing the militant.
Three Chechen police officers were wounded in the exchange.
(ITAR-TASS)



RFE/RL's complete coverage of Russia's war-torn Republic of Chechnya.
CHRONOLOGY
An
annotated timeline
of the Chechnya conflict.