Top Peacekeeper Issues Prescription For Stable Kosovo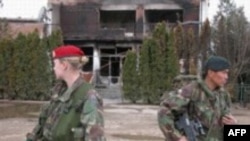 British peacekeepers in Kosovo (file photo) (AFP) 20 November 2005 -- The head of the NATO-led peacekeeping force in Kosovo has said that solving that internationally administered province's economic situation is crucial to making and keeping peace there.
Italian Lieutenant-General Giuseppe Valotto said that poverty, unemployment, and a lack of foreign investment are fanning ethnic tension in Kosovo and contributing to corruption, crime, and violence.
Valotto called for a longer-term Kosovo development strategy. His statement was delivered at a conference in the Bulgarian capital Sofia.
The UN has administered Kosovo since the 1999 NATO bombing campaign drove Serb forces from the province. Talks to determine its future status are set to start Monday. Kosovo's ethnic Albanian majority argues for independence, while Belgrade insists the province is an integral part of Serbia.
(Reuters)

SUBSCRIBE
For a regular review of politics, media, and RFE/RL broadcasts in the western Balkans,
subscribe to "RFE/RL Balkan Report."