Ukraine Marks Revolution Anniversary As Holiday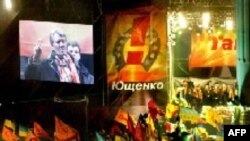 A Yushchenko rally on 5 December 2004 (AFP) 21 November 2005 -- Ukrainian President Viktor Yushchenko has signed a decree making the anniversary of the country's Orange Revolution a new state holiday.
The presidential press service today said 22 November will be celebrated annually as Freedom Day.
On that date last year, mass protests began against election fraud. The protests led to the toppling of the previous regime and Yushchenko's election.
In a national radio address on Saturday, Yushchenko said that although Ukraine had been independent for 13 years, it only became free during the revolution. He said "freedom was the main achievement" of the protests in Kyiv's Independence Square.
For the new holiday to be declared a day off, the decision must still be ratified by parliament.
(INTERFAX UKR/ITAR-TASS)

An archive of RFE/RL's reporting and analysis on Ukraine's Orange Revolution.
REVOLUTION IN THE AIR: Listen to an audio portrait of the Orange Revolution from RFE/RL's archives.
Real Audio Windows Media